5 Gozo Diving Spots
5 Gozo Diving Spots
Are you looking for a life-changing scuba holiday? Take a look at our favourite 5 Scuba sites in Gozo.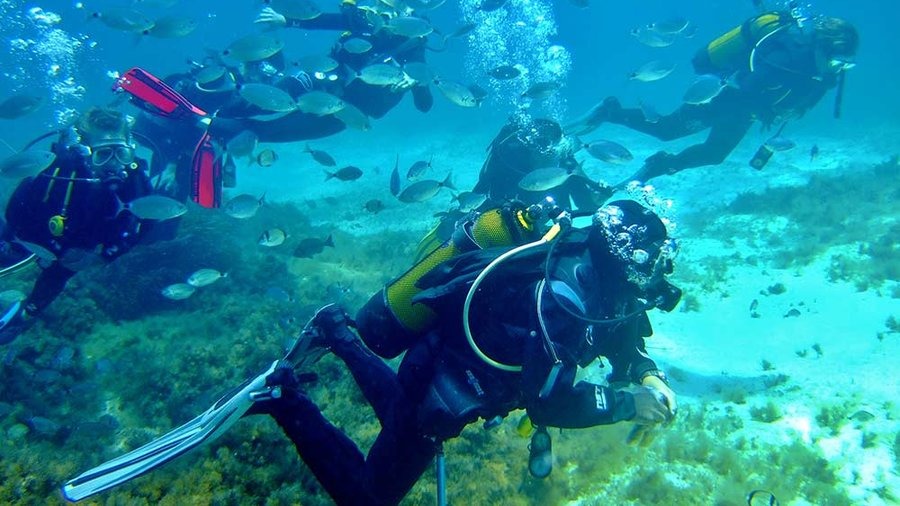 Malta and Gozo diving was named 2nd Best Diving Destination in the World by the Diver Awards 2018 for the third year in a row
Malta and Gozo diving was named 2nd Best Diving Destination in the World by the Diver Awards 2018 for the third year in a row, with good reason.
Scuba divers frequently name Malta and Gozo as a divers paradise. It has clear visibility, it's well known for its clean and warm waters and under water is a haven to marine life.
Malta incorporates its smaller islands Gozo and Comino, surrounded by diverse dive sites, some accessible by short boat rides, others directly from the waters edge from the coastal routes or the beautiful clean beaches.
The dive sites are formed from caves, rock formations and sunken ships with diving opportunities for beginners to experienced divers, showing how Gozos history takes place off the land too.

Best places to Scuba in Gozo and Comino
1. Reqqa Reef, Gozo diving
Reqqa Point in Gozo is accessible from the coastal route, and worth the effort. This popular dive site is suitable for all abilities, however it isn't suitable during windy weather. The caves and crevices are home to diverse marine life.
2. The Blue Hole, Gozo diving
The Blue Hole in Dwejra, is popular due to the stunning rock formations throughout the dive. The Azure Window fell in the storm in 2017, however Dwerja is still number 1 for diving.
It still provides a home to a variety of underwater animals, and 45 metre visibility due to its sheltered location. It's accessed from the shore, or by boat, and is suitable for all diver levels.
3. Santa Maria Caves, Comino diving
The Santa Maria Caves in Comino offer a number of different caves with troughs and tunnels, suitable for all snorkel and scuba skill levels, and are accessible by boat.
4. The Inland Sea and Tunnel, Gozo diving
The Inland Sea and Tunnel is another dive from the Dwerja shore. The unique topography makes this a top dive site in Malta, and although the seawater lagoon sparkles with sunshine, there are times when it is worth bringing a torch.
This is suitable for all skill levels, however don't try this dive after bad weather as the visibility reduces significantly.
5. MV Karwela Wreck, Gozo diving
This 58m long boat was sunk in 2006 to create a man made dive site. The boat was launched in 1957 as M/S Frisia II, and functioned in Malta from 1986 as a passenger ferry carrying up to 863 passengers until 2002.
It is accessed from the shore, and is only suitable for advanced divers.
What fish to see when Scuba diving in Gozo
What makes Gozo so special to dive, is the sheer extreme variety of marine life awaiting you. We've listed some of our favourite below, but this list simply goes on and on.
When organising a dive, if there are particular fish or coral that you're interested in, let the dive centre know, so they can guide you to sites where you are more likely to see your favourites.
We're fond of the shrimp, octopus, lobsters and crabs, but nothing beats the beauty of a ray gliding above.
Amongst the many other animals down there, you'll also have the opportunity to see:
damselfish
groupers
barracuda
tuna
morays
seahorses.
Gozos Scuba Dive centres
Jules Gozo Holidays has worked closely with many of the dive centres over the years. We help our holiday rental guests get the most out of their holiday in Gozo, making memories that last a lifetime.
Book your scuba in Gozo with Jules Gozo Holidays
Jules Gozo Holidays has a range of suitable Gozo Villas and Farmhouses for any diving group from the smallest to multiple adjacent properties for groups of up to 36 divers.
For your diving holiday in Gozo, simply contact us and we'll be happy to make arrangements between you and the Scuba Dive Centres to get you booked in for the best dives in Gozo.