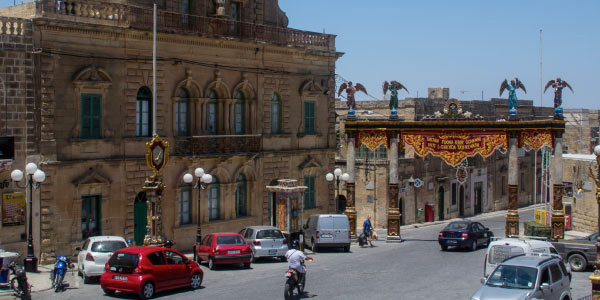 Gharb
History. Beauty. Tradition. Find it everywhere you look in wonderful Gharb.
There's a wonderfully traditional, rural feel about this village. That's hardly surprising, since until recently the people of Gharb were almost exclusively farmers. But then this, one of Gozo's most attractive and fascinating villages, has been home to Gozitans (of one type or another) for millennia. Achaeological excavations have found the remains of Neolithic and Bronze Age settlements, with further, later communities of Phoenicians, Romans, Byzantines, and Arabs settling here until well into the 11th century. Even the name is Arabic.
Traditional crafts - The people of Gharb are renowned craftspeople. You'll find blacksmiths, locksmiths, cotton weavers, lace makers, carpenters and cane-workers all plying their trade, with the unique 'l-Gharb blade'- a traditional sharp knife, the local signature creation.
Gharb Folklore Museum - You'll get a much deeper insight into the villages trades, crafts and daily life by visiting the Gharb Folklore Museum in the village centre. The museum building was once home to Frenc Mercieca, whose apparent ability to cure people through prayer to Our Lady gave him an international reputation.
Ta' Dbiegi Crafts Village - The nearby crafts village is a great spot for watching the locals work, and for souvenir hunting. The mouth-blown glass, Gozo lace and pottery, and silver filigreeare all absolutely typical of the area.
Ta Pinu - Gharb was once the home of Karmni Grima, a saintly woman who, having heard the voice of Our Lady at Ta' Pinu, started the devotions that made Ta'Pinu the Maltese Island's most important shrine.Ta'Pinu church is worth a visit too. Now a national icon, this majestic building attracts pilgrims worldwide who come to pray and experience the profound sense of peace here.You'll find Ta Pinu at the edge of Gharb village. While there, take a stroll up the pleasant (though somewhat steep) path on the hill opposite where white marble statues of the Stations of the Cross mark your journey.
Gharb Parish Church and Collegiate Basilica - These buildings overlook the pretty square in the village centre. The church was built in 1699, expanding the existing 'old church' dating from 1679. As a result, Gharb is the second oldest village parish in Gozo.The church was dedicated to the Feast of the Visitation. The feast is held on 31st May, although the village's festa is held on the first weekend in July.
Chapel of St. Demetrius - Toward the coastal cliffs on the outskirts of Gharb village, you'll find the tiny, intriguing chapel of St. Demetrius. There are a number of legends surrounding this place, the most dramatic of which is that a local lady, Sgugina, lost her local son to violent Turkish raiders during the sixteenth century. Weeping inconsolably in the chapel beneath the sacred alter painting of St. Demetrius, the saint apparently charged his horse out of the painting and down toward the Turks, successfully returning Sgugina's son to his mother's arms.
Military history - Gharb played an important role in safeguarding Malta. With the constant threat of raiding Ottoman Turks and looting Berbers during the sixteenth century, Gharb's lookouts were crucial. They were used to send smoke signals to warn Malta of impending danger.
Rock window - Gharb is known for the idyllic Gozitan countryside that surrounds it. Follow the Wied il-Mielah Valley and wander through lush fertile grasslands toward the sea. On reaching the coast, you'll find the lesser known but nonetheless dramatic natural rock 'window' – a much less visited spot than Dwejra's iconic Azure Window.
Xaghra
You'll find more of our Gozo holiday villas and farmhouses in and around Xaghra than anywhere else on the island.
Here's why. From some of Gozo's best dining to hidden caves, picturesque scenery to the world's oldest manmade structures, Xaghra is a constant surprise. How often have you read a tourist guidebook and seen something along the lines of 'there's a surprise behind every door!'. Well, whilst it may not quite manage every door, Xaghra does at least take that challenge literally.Hidden beneath two private houses in Xaghra's residential streets you'll find Xerri's Grotto and Ninu's Cave. There's something rather wonderful about having to knock on someone's front door to visit their cave out back. The guided tours are conducted by members of the families that live there.Just outside the town, overlooking Ramla Bay, is the legendary 'Calpyso's Cave'- supposedly home of mythical nymph, Calypso, from Homer's Odyssey. Entry is currently barred following subsidence, but the bay and its surroundings are still worth a visit.
Ggantija Temples - Xaghra has been settled for thousands of years, and the greatest evidence for that occupation is also the town's biggest tourist draw. The Ggantija temple complex consists of two Neolithic stone temples dating back to 3600BC. They are huge, mesmerising and among the oldest freestanding stone buildings in the world. Small wonder they hold UNESCO World Heritage status.
Around Xaghra - outside of its archaeological and subterranean treasures, Xaghra is a particularly picturesque village encircled by the lush valleys of Ramla, Ta' l-Ghejjun and Marsalforn and by three beautiful bays – Ramla (Gozo's best beach), Ghajn Barrani and Marsalforn.Close-by is the restored eighteenth-century windmill, Ta' Kola, with its original mechanism and miller's living quarters. For a complete contrast, visit the Pomskizillious Museum of Toys which, in addition to its range of antique toys, displays a waxwork of artist and writer Edward Lear (of The Owl & The Pussycat fame). He visited the island for a week in 1866. If all that sounds like a particularly British form of eccentricity, it was founded by a couple of Brits in the 1970s. Xaghra's first parish church, dedicated to St Anthony Abbott, was originally a medieval chapel that still stands today. The parish, however, is now served by the much larger Basilica within the central square (dedicated to the Nativity of the Blessed Virgin Mary). 8 September is annual feast day and, unusually, serves a dual purpose: honouring the Nativity of the Blessed Virgin Mary, and the 'Il-Festa tal-Vittorja' (The Victory Feast) which commemorates the Maltese victory under the Knights of St. John over the Ottoman Turks in the Great Siege of 1565.
Eating out in Xaghra - Search our accommodation pages and you'll find a large number of Gozo holiday villas and farmhouses based in and around Xaghra. That popularity has meant that good eateries have followed, and Xaghra is a great place for an evening stroll around the town square with a choice of dining venues large enough to offer somewhere new and exciting to eat on every night of your stay.
Ghasri
Gozo's smallest village has plenty to explore…
Take the Victoria-Gharb road to the old aqueduct, fork right, and you'll find yourself in the smallest village on the island.
Nestled between the hills of iz-Zebbug and Ghammar, you might miss Ghasri entirely were it not for its red domed church which dominates the landscape. Even for Gozo, it's improbably large for the resident congregation. That's because Ghasri is Gozo's smallest village, yet if your Gozo holiday villa is here, you'll be in a place of peace and tranquillity. And you'll never be far from magnificent views and some of Gozo's best walking and cycling routes.
Ta Gurdan Lighthouse - The Ta' Gurdan (the Gordan) Lighthouse stands 180m above sea level and towers over the village on top of Gurdan Hill. Inaugurated in 1853, the lighthouse's beam could be seen as far as 50km away. Ironically, the intensity of the beam was reduced to prevent light pollution! World War II saw the lighthouse put to further use when radar was installed to give the residents advance warning of raids.
Wied il-Ghasri - From the village square, take the road toward the coast and you'll pass through the Wied il-Ghasri Valley. It's a popular area for walking and cycling, especially in winter and spring, with its traditional Gozo farmhouses and attractive old chapel dedicated to the Blessed Virgin Mary. Eventually, the valley opens out to the sparkling sea, where steep coastal cliffs create a secluded little inlet that's perfect for swimming, snorkelling and diving.
Marsalforn
Discover the life, soul and diving heart of the island
It's not just tourists who make a beeline for Marsalforn's golden sand, blue skies and warm, crystal-clear waters. You'll find plenty of local Gozitan and Maltese families descending for summer on Gozo's north coast too.
Marsalforn is Gozo's one bona fide resort, although unlike many other resorts around the Med, this one hasn't been entirely taken over by visitors.
In summer, Marsalforn's waters are alive with motor and sailing boats. Some are taking visitors on sightseeing trips. Some are carrying divers and snorkelers to prime Gozo dive sites (Marsalforn is a popular choice for divers and the site of a number of Gozo dive schools). And some are just lazily meandering their way around the island.
On land, an eclectic range of bars, cafes and restaurants fringe the large bay. Sunday is a particularly good day for food, because that's when Marsalforn's many restaurants host the leisurely family lunches that locals love.
Comino - Tiny Comino (the island between Malta and Gozo that you'll pass on the ferry over) is a popular destination for boat trippers. There you'll find the legendary and utterly idyllic Blue Lagoon. If you're wondering where you've seen it before, it's been used as a location for countless movies and TV shows.
Kercem
Walkers, cyclists, artists: book a Gozo holiday home in Kercem and you'll have 7,000 years of history and beauty to explore
Ta' Kercem village, nestling on the south-easterly edge of Victoria, is encircled by some of the most scenic inland landscapes on the whole island.
Surrounding the village lie the Lunzjata Valley, the hills of tal-Mixta and Ghar Ilma, the Pond of San Rafflu and the Xlendi cliffs. It makes an incredible base if you're on a Gozo walking or cycling holiday. And if art is more your thing, best pack plenty of paint and canvas.
Within easy reach you also have the village of San Lawrenz and the beautiful sandy stretch of Dwejra Bay while Ta' Kercem itself has plenty to offer.
Kercem history - Ta' Kercem (or at least the area it now occupies) appears to have been inhabited for more than 7,000 years. That makes it one of the earliest places to be inhabited on the island.Excavations in Ghar Gerduf unearthed an early Christian cemetery and the remains of Roman baths which, together with subsequent findings, indicate ongoing habitation up to the sixteenth century.By that time, a significant community had established itself here, building the original chapel, dedicated to Pope St Gregory the Great, around 1581.
Village celebrations - You get two festas for the price of one in Kercem. That's because the church is dedicated to two patron saints: St Gregory and Our Lady of Perpetual Help. If you're visiting Kercem in March you may be able to catch the first, the feast of St Gregory. The second festa is the larger of the two and is held on the second Sunday in July.Other village celebrations include the annual Ghadira Fair – a popular, old-style family fair for the 1,700(ish) residents of Kercem. There's traditional music, food, drinks, pony rides and competitions – and if you're lucky you might even win a goat, sheep, rabbit or poultry (rather more modern prizes are up for grabs too!).
The Hamlet of Santa Lucija
In search of a traditional Gozo holiday experience? Step back in time in Santa Lucija.
Utterly charming and utterly peaceful – if relaxation and getting away from it all are top of your Gozo holiday list, discover Santa Lucija.
When you're nestled between three hills, each with its own natural spring, it's hardly surprising that your part of Gozo is one of the most fertile spots on the island.That's Santa Lucija, snuggled between the hills of Ghar Ilma, Il-Mixta and Santa Lucija. It's a peaceful hamlet, officially part of Ta' Kercem but in reality quite distinct.With its rustic Church Square, calm atmosphere and picturesque charm, Santa Lucija feels like an impressively realistic part of a Gozo heritage trail. Of course, it's no act. The hamlet really is a snapshot of Gozitan yesteryear, inhabited mainly by country folk who proudly protect their ways. Just wandering around here, past the scattered houses, chapel of St Lucy, and the shepherds keeping a watchful eye over things in the neighbouring fields, feels like the closest thing you'll get to time travel.
Fontana
Explore the gateway to the lush Lunzjata Valley
This little village feels like a suburb of Victoria now, but that wasn't always the case.
The area was settled because of its natural spring (the locals call it 'Triq tal-Ghajn' – the way to the spring) and you can still see the 16th century arched shelters that were built over the source of the spring to make gathering water and washing less of an al fresco experience.
Lunzjata Valley - In the lower part of the village (the part furthest from Victoria) you'll find the lush green Lunzjata Valley. This is a particularly fertile part of Gozo, and you'll see local farmers working busily here all year round. Keep an eye out for the stone gutters. They're part of an ancient irrigation system still used today to bring water from a spring in the Ta' Kercem part of the valley.
Sacred Heart of Jesus Church - You know how hard it can be to save for something you really want? Fontana's fishermen took that to extremes. They saved the money from the proceeds of their daily catches and gradually collected enough funds to lay the foundation stone of Fontana's church in 1892. It took 13 more years of diligent saving before the church was eventually finished and dedicated to the Sacred Heart of Jesus in 1905.If you're visiting Fontana in the 2nd or 3rd week in June, you'll have timed your Gozo holiday to coincide with Fontana's festa – and everybody's welcome!
Nadur
Valleys, bays, beaches and coves – there's lots to discover in and around Nadur
Perched on the island's easternmost hill, Nadur (the name means 'keep guard') is an intriguing traditional Gozo village offering fantastic views over land and sea.
Standing majestically on Nadur's skyline, the Parish Church of Saints.
Peter and Paul is a particularly fine example of Gozo's baroque architecture. It sits opposite an old stone cross in the village square.The town's festival day (which honours the saints) is 29 June, a national holiday. Locals call it 'L-Imnarja', meaning 'illumination'. If your Gozo holiday coincides with any of the island's festas, be sure to take a look – they're a wonderful way of experiencing traditional Gozo up close.
The village's Maritime Museum is certainly worth a stop. Here you'll find a treasure-trove of naval memorabilia spanning the time of the Knights of St John through to the British era and into the twentieth century. Here too stands the British-built Ta'Kenuna Tower, erected in 1848 as a telegraph link between Malta and Gozo. More recently, the Maltese Botanical Garden became a pretty addition to the land around the base of this tower.
The countryside around Nadur is an enchanting landscape of green valleys, peaceful bays, beaches and coves. Lazily exploring them all makes for a wonderfully relaxed way to spend your Gozo holiday.Ir-Ramla is Gozo's largest sandy bay and well worth a visit, or snorkel and bathe in the delightful coves of San Blas and Dahlet Qorrot. Be sure not to miss the unique boathouses of Dahlet Qorrot – they're natural caves and ledges at the base of the cliffs. See too the Knights-period watchtower, Ta'Isopu Tower (also called Ta' Sopu or San Blas Tower) which stands mid-way between Dahlet Qorrot and San Blas.
Qala
Great swimming, stunning caves, and some of Gozo's best views of Comino and Malta.
In the water, on the water, or looking across the water, Qala is worth searching out.
Legend has it that Qala's little church, Il-Madonna tal-Blat (Saint Mary of the Rocks), was deliberately built facing neighbouring island, Comino, so that Comino's residents could follow Holy Mass if the seas were too rough for a priest to cross to them.
Certainly, Qala's position on Gozo's easternmost edge makes for some fantastic views. From the church courtyard you can see Comino and Malta across the sea.
As for Qala's shoreline, aside for a few sheltered inlets (like the popular swimming area of Hondoq Ir-Rummien), the coast is largely rocky – and rocky makes for lots of interesting caves. Prettiest of the lot is Ghar Minka, but you'll need to be in a boat to see it.
Sannat
Base your Gozo holiday amidst some of the island's most beautiful scenery
Spectacular scenery and natural history in one of Gozo's oldest villages. Discover Sannat.
Sannat, at the southerly end of Gozo, is best known for the Ta' Cenc plateau on the edge of the village. This fantastic area of typically Maltese flora and fauna is also home to the tallest cliffs on the island, and overlooks the Hanzira Valley – a natural gorge with steep rocky sides that separate Ta' Sannat from Xewkija village. Head down the Hanzira valley to Mgarr ix-Xini Bay and you'll find a gorgeous spot for swimming and diving.
Aside from the splendid views, Ta' Cenc is a place of history. A number of prehistoric remains have been found here, including the ancient L-Imramma Temple, a roughly- shaped horizontal limestone slab supported on three sides by blocks of upright stone.
Sannat was one of the first island villages to gain independent parish status, in 1688. Today, the church dedicated to St. Margaret the Martyr (which replaced an earlier church) is worth visiting for the fine altarpiece by Stefano Erardi.
If you're planning your Gozo holiday for the third week in July you'll catch the village's festa in honour of St Margaret. It's always worth watching.
San Lawrenz
Traditional lifestyles fringe 5 star luxury. Discover a village of contrasts.
Charming and traditional St Lawrenz is in the west of the Island, not far from Dwegra Ban and Ta'Dbiegi Craft Village.
Built on a plane, this picturesque village is surrounded by three hills: Ta' Dbiegi (Gozo's highest point), Ta' Ghammar and Ta' Gelmus.
There's a real contrast here between typically rural lifestyles and respected village traditions, and the 5-star luxury of the Kempinski San Lawrenz Hotel on the village outskirts. If you're holidaying on Gozo and staying nearby though, it's a contrast worth living with, because the hotel's restaurants are well worth a visit.
San Lawrenz is one of only two Gozo villages named after their patron saint (the other is Santa Lucija in Ta' Kercem). Before the village was established as a parish in 1893, it was known as Ta' Cangura. This earlier name dates back to a time when San Lawrenz formed part of Gharb's parish – though San Lawrenz villagers longed for their own church and community. When they finally achieved it, the locals were so delighted they started building their church immediately.
The village feast of San Lawrenz falls in the first week of August.
Victoria (Rabat)
Almost anywhere you travel in Gozo, you'll have seen Gozo's Citadel on the horizon. Time to pay it a visit.
Citadel, cathedral, museums, folklore, history, shopping and a thriving café culture – discover Gozo past and present in bustling Victoria.
Victoria is the capital of Gozo although, rather confusingly, when you're holidaying on Gozo you'll rarely hear it called Victoria. The anglicised name was a result of British rule coinciding with Queen Victoria's Golden Jubilee. The city's traditional name, Rabat, is an archaic Maltese term for 'suburb' and goes back much further.
Gozo Citadel - Whatever name you choose to give it, a visit to Victoria is an essential part of a Gozo holiday. Taking pride of place within the city (and on most to-do lists) is the Citadel.
This ancient fortified city within a city has a long history of protecting Gozitans from attack. Whenever Barbary corsairs or Saracens appeared on the horizon the island's inhabitants could retreat to the citadel for safety. But when the Ottoman Turks invaded in 1551, the citadel's defences weren't enough to prevent most of the island's population from being carried into slavery.
Following the end of the Great Siege of 1565, the Knights of St John set about creating a new improved citadel that stood a greater chance of keeping the people safe. In fact, until 1637, the Gozitan population was required by law to spend their nights within the Citadel for their own safety.
Happily, nowadays you can come and go as you wish, although there's plenty to keep you within the citadel's walls. That's because many of the island's main historical sites are here including: The Cathedral Museum, Grain Silos, the Folklore Museum, Gozo's Nature Museum, the Old Prison and the Old Gunpowder Magazine, Battery and World War II Shelter.Take a walk along the Citadel's towering fortifications for superb views over the whole island.
Independence Square - Back in the streets of the city, you'll find Pjazza Indipendenza, known as 'it-Tokk'. This is Victoria's beating heart. Dominating the square is the Banca Giurata: built between 1733 and 1738, this was formerly the seat of Gozo's municipal government. Now it hosts the local council.Fringing the square you'll find a bustling hubbub of attractive open air cafes which, during mornings, share their space with an open market. In a smaller square at the rear of It-Tokk, in the centre of the old town, stands St George's Basilica. It is surrounded by a fantastic web of narrow back streets. This is the oldest part of the town and well worth exploring.
Republic Street and beyond - for shopping, strolling down Victoria's main street, Triq ir-Repubblika (Republic Street) is a must. Arts lovers should catch the La Stella and Leone band clubs in their respective homes of the Astra and Aurora open theatres. Walk a little beyond it-Tokk and you'll come to the peaceful escape of Villa Rundle Public Gardens. Established in 1910 by the British, the now refurbished gardens display a variety of local and imported trees and a cooling fountain. A good spot to sit and watch Gozo go by.
Travelling to and around Victoria - Like any capital city, Victoria and traffic aren't best friends. It may not be London at rush hour busy, but we would always recommend travelling by bus – which removes two hassles: navigating busy, narrow streets, and parking. You'll find the bus terminus in Victoria just off Republic Street (the southerly end of the city).If you do plan on driving, you'll find parking off Republic Street too, and smaller parking areas in St George's Square, Savina Square, St Francis Square and St Augustine Square. If you are driving, be sure to display your car disc so it clearly shows your arrival time.