Ramla Bay in the world's 7 best red sand beaches
Ramla Bay in the world's 7 best red sand beaches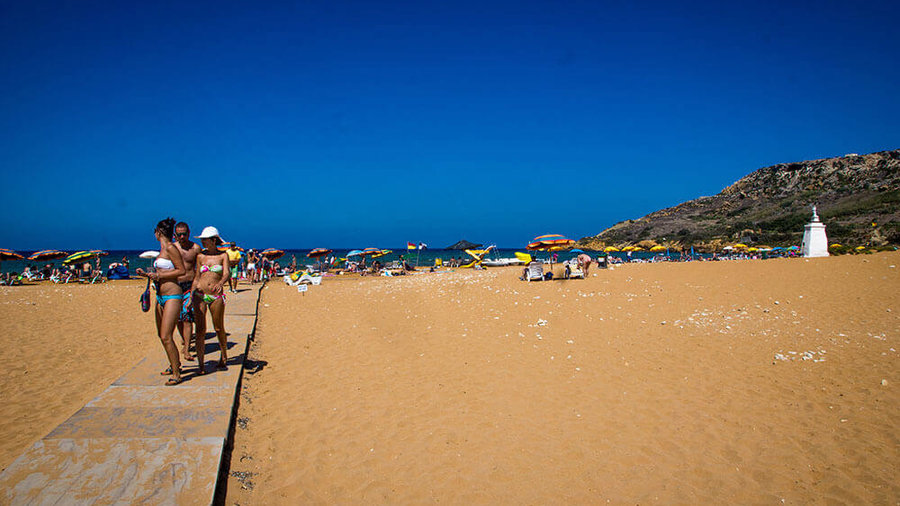 But please can it stay that way?
You've heard of golden sands. You've probably heard of white sands. But red sands? We'll admit it, Ramla Bay's beach isn't red in the truest, poppy/tomato/chilli-coloured sense of the word, but it does have a very distinct burnt orangey-red hue that few others can boast. And now the highly influential Travel and Leisure Magazine (a US publication) has named it amongst the world's 7 best. Also in the red-sand elite are beaches in Italy, Portugal, Hawaii, Canada, Greece and Ecuador – impressive company. As
Gozo News reports
, the magazine description is as follows:
"Ramla Bay lies on the northern coast of Gozo (one of Malta's islands) and its beachfront is coloured a burnt, orange-red – a particularly striking tone set against the electric blue sea. Because it's nestled at the bottom of a valley, Ramla I-Hamra beach is also a sanctuary for wildlife and vegetation."
All of which sounds gorgeous. And it is. The problem (if you see it as such) is that Ramla Bay can be a bit fiddly to get to. As a result the Gozitan authorities are promising to improve access next year, improving footpaths, cleaning the valley and making other improvements such as installing a "panoramic camera in the locality of Calypso's Cave – all so that Ramla can be better enjoyed." I get a bit nervous when I hear about 'improvements' which all too often (in other parts of the world as well as the Maltese islands) are code for 'redevelopment'. Still, I'll hope a general tidy up and the odd camera will be the limits of the improvements at Ramla Bay, so it remains one of the world's great unspoilt red sand beaches. The bay is on Gozo's north-eastern coast. If you want to spend lots of time in and around the bay (and it's so beautiful we could quite understand why you would), you'll find
Nadur
and
Xaghra
are your closest towns with the largest local concentration of Gozo holiday villas and farmhouses. If you'd like to find
Gozo holiday accommodation
that's right on Ramla Bay's doorstep give us a call us on
01430 626 061
and we'll do our best to find the perfect place.