Gozo. The Perfect Wedding Paradise
Gozo. The Perfect Wedding Paradise
Today we celebrate the first anniversary of our customer's wedding hosted by Jules Gozo Holidays.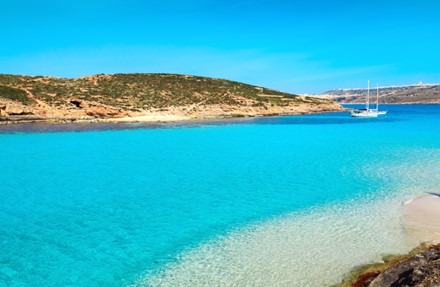 Gozo is renowned for being one of the most idyllic and picturesque destinations to enjoy the biggest day of your life.

Your Wedding.

What better way to introduce weddings on Gozo, than to tell our own story?

A year ago, today we were privileged to host more than 70 guests in our Gozo Villas and farmhouses.

This day, finally, was Craig and Sebastian's wedding.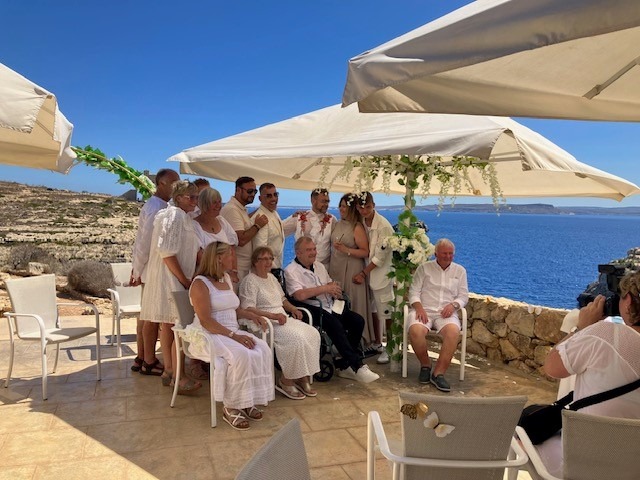 Wedding Paradise on idyllic Gozo
Our Wedding Story
12th September 2022
It all started over 10 years ago when Craig visited Gozo for the first time and stayed in one of our Gozo Villas.
They were so enchanted by the island, they have returned every year since.
It was quite a shock when Craig (my hairdresser in Edinburgh), announced that he had decided to organise his wedding on Gozo.
Not just for a handful of guests but up to 80 family and friends from the UK and Sebastian's family, from Poland.
Could we organise holiday accommodation, transfers and car hire for the whole group for one week?
Plus, recommend wines and an outside catering provider?
No question, of course we can.
Ta Cenc, one of Gozos hotels, owns a lovely restaurant, Il Kantra, on the edge of Ta Cenc Cliffs.
With an impressive 150 metre height, these are the tallest cliffs in Gozo.
The wedding ceremony and 7 course lunch has been booked here for September 2020.
Wow.
MENU
Hors-Deuvres; Lobster Medallions with Scallops Rockfeller
FIRST COURSE;
Salmon and Cuttle fish Ink Tortellini with pumpkin mouse
FIRST MAIN COURSE;
Dentex Fillet and King prawns Compote with marjoram Potato sticks
SECOND MAIN COURSE:
Fillet of Angus Beef wrapped in "Wellington" and vegetable potpourri
DESSERT:
Trio of Sweet Delicacies Gozo Villas and Farmhouse Wedding
Wedding Accommodation 2020
We booked accommodation in 7 large farmhouses.
This included the Pergola suite of farmhouses to accommodate 36 family guests from the UK.
We also booked another suite of farmhouses for Sebs family from Poland.
Villa Pergola was selected as the farmhouse wedding venue for the evening celebration given its exceptionally grand outside space and superb valley views.
Many of you reading will look at the year and say "Auh! - Oh".
You know what comes next!
Chaos and closed borders.
Covid.
Postponement 1 in 2019 to 2020 was followed by postponement 2 to 2021.
Each time, Il Kantra agreed to new wedding dates and our Gozo Villa owners kindly moved our bookings.
Chris at Jules Gozo holidays spent a year co-ordinating flight arrival times, airport of departure, airport transfers and car hire on Gozo for 70+ guests.
Arrival instructions were tailored to each party as flights came in from various European airports.
No mean feat!
The Wedding Celebration
12th September 2022
Finally, attempt 3, 12th September 2022, the long-awaited wedding happened!
Guest arrival to Il Kantra was by an ornate wooden miniature road train, causing great comedy and cheering from the locals.
The wedding was the best we'd ever experienced on a glorious sunny day with the most beautifully decorated venue and picturesque scene.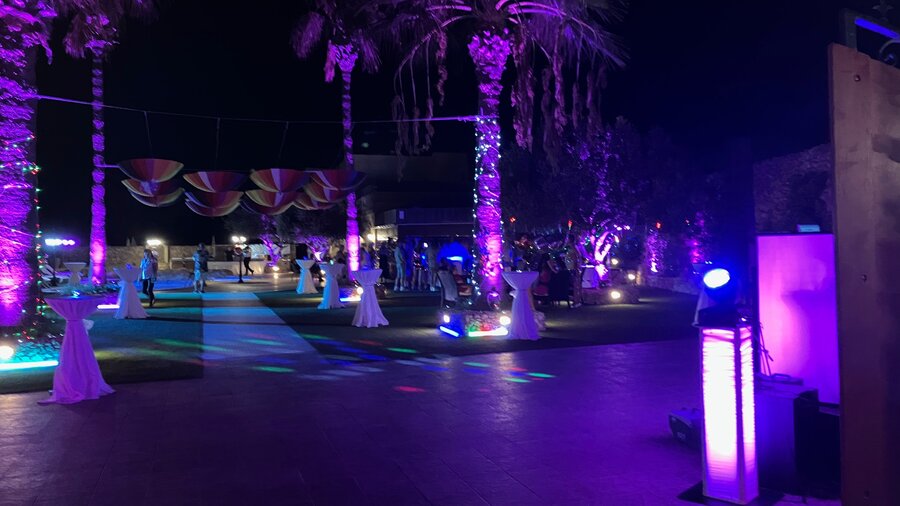 The Evening Party
The Evening Party Villa Pergola and Catering Suppliers
Villa Pergola proved the perfect evening venue, adorned with full wedding fen ilia.
We introduced Craig and Seb to Abraham's outside catering team at Vini e caprici who provided a superb outside BBQ and bar (on sale or return).
The DJ led guests to party on…and on…
Thank you Dawn and team.
We'd also like to thank Ta Mena Estates for supplying wine for the wedding and party (and giving us the experience of a wine tasting in their shop earlier that year).
The Ta Mena Estate "grow their own grapes on Gozo to produce great wines with a particular Gozitan Character". The winery tour is a must do!
Congratulations also to Craig and Seb in finally tying the knot on our beloved Gozo.
Until the next one….watch this Gozo Villas by Jules Gozo Holidays. 😊