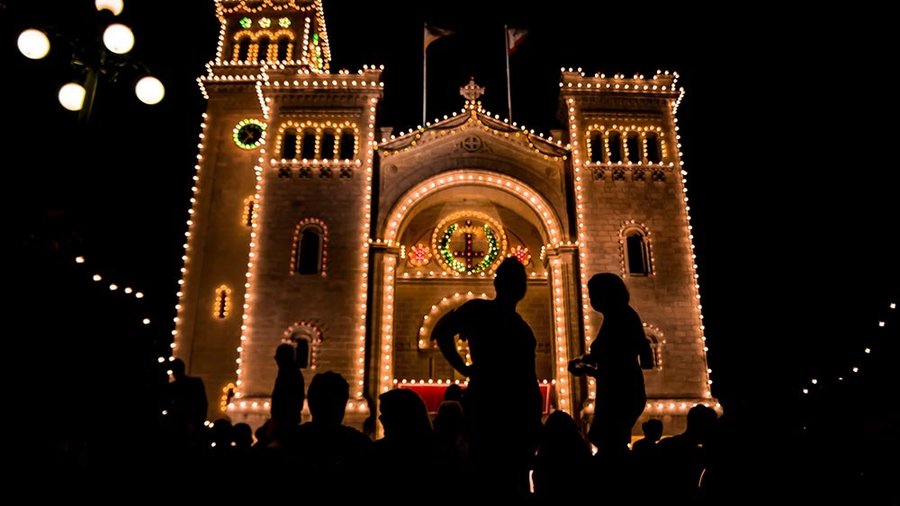 A key Gozo attraction for many visitors (not to mention the locals) is the village festa. Held between May and mid-September, every town and village across the island holds an annual feast lasting three or more days, dedicated to its particular patron saint.
Carnival Week
Carnival Week traditionally precedes Christian Lent. It's one of the Maltese Islands' most colourful times of the year, combining history with Maltese folklore in a celebration said to date back to the Knights of St John (around the 1530s) and possibly earlier. The event is celebrated across Malta and Gozo, but you'll find Carnival Week on Gozo rather different to the celebrations on the Maltese mainland.
In Victoria, carnival time is party time. Head to It-Tokk (Independence Square) to watch the costumes, floats, music and dancing.
Nadur puts a different spin on Carnival Week. Known as the 'Silent Carnival' Nadur's celebrations are spontaneous (there's no one organising anything), with revellers aiming to avoid recognition by donning masks, hoods and grotesque, bizarre or comical outfits, and staying quiet to conceal their identity still further.
Many people carry placards filled with veiled and not-so-veiled comments (and insults), usually aimed at well-known personalities.
Because Easter moves, so does Lent, and so does Carnival Week, but if you're visiting Gozo in February be sure to check dates.
Gozo celebrates Carnival Week in its own unique style, the main activities occurring in Victoria's main square, It-Tokk (Independence Square) with more festivities in Nadur. Victoria celebrates in much the same style as in Malta's Valletta – typically through costumes, floats, music and dancing. The carnival in Nadur, however, is quite different.
Steeped in traditional and often spontaneous revelry, there is no organising committee to regulate the event. Essentially, people dress to avoid recognition. Masked, hooded and grotesque (or funny) outfits fill the streets and people stay quiet to aid their disguise. Consequently, Nadur' celebrations have earned the title 'The Silent Carnival'. Between the outlandish costumes, placards are carried covered with indirect remarks and veiled comments (many of them insulting)– mostly aimed at public (and sometimes private) personalities.
Easter
Gozo's magnificent churches tell you immediately that this is an island that wears its Christianity proudly on its sleeve. Easter, therefore, is a major milestone in the Gozitan year.
Good Friday sees highly emotional congregations gather in churches adorned with ornaments, flowers and cloth.
On Easter Saturday, churches hold solemn religious services by the light of hundreds of tiny flickering flames. Bells peel across the island and once the services end, congregations stay a while to enjoy a drink or a taste of traditional figolla (Maltese almond Easter cake).
On Easter Sunday, Gozo's churches celebrate Easter Mass. Afterwards, some parishes hold a traditional celebratory and joyful march, carrying a statue of Christ and usually accompanied by local bands.
Festival Mediterranea
Taking place in the warm month of November, this festival serves as a superb showcase for Gozo's artistic and cultural heritage. Organised annually by Victoria's Astra Theatre, you can expect traditional music, brass bands, opera and symphonic music together with folklore and the involvement of churches, natural heritage, museums and more.
Gozo International Celebration
The celebration aims to bring together foreign visitors and residents through music, hymns and art. The event hops around the calendar, but usually takes place over Easter, Christmas or both. You'll find it at the Il-Qala Parish Church, and it is followed by a reception. Entrance is free.
Gozo Ultra Trail 55km run or mountain bike
This extreme Gozo Ultra Trail 55km run or mountain bike is a challenging but popular way to make the most of Gozo's scenic spring greenery, rocky outcrops, steep cliff edges and beautiful beaches. A series of pit-stops offer participants a chance to recharge before finishing what is one of the Mediterranean's most photogenic trail races.
It's tough but rewarding, and entrants of any ability are encouraged. They're generous with completion times too so if you fancy adding an extreme physical challenge to your list of things to do on Gozo, don't feel as though you'll need to be able to complete it in world record time to be able to enter.
Art & Craft Exhibition
Held in May/June each year, this exhibition takes place in the Exhibition Hall of the Ministry for Gozo. Students of the Wistin Camilleri School of Fine Arts display a wide range of work including paintings, parchment, pottery and pyrography (wood burning designs). You'll also find Gozitan lace, tapestries, tread filigree (ganutel), stained glass and gilded Maltese clocks.
Lejlet Lapsi Notte Gozitana
If you're visiting Gozo in mid-May you'll find this lively weekend festival of traditional entertainment, arts and culture taking place in the streets and squares of Victoria. The revelries run well into the early hours each night. It's a Gozo attraction loved by locals and visitors alike.
Xaghra Feast Gozo
Local councils and organisations across Gozo plan events like this throughout the year. Look out for Seher il-Punent in Gharb; Fiori d'Argenta in Xewkija; the Qala International Folk Festival; the Fig Festival in Xaghra and the Lunzjata Valley's Festubru.
Operas
Gozitans love their arts, culture and music. As a result, the island's two opera houses, the Astra Theatre and the Aurora Opera House, are both popular Gozo attractions. Based in Victoria (Ir-Rabat), both venues perform at least one fully-staged opera annually, often supported by international soloists.
Plant and Flower Exhibition
In April/May each year, the Gozo Agricultural, Cultural and Industrial Society organize a plant exhibition in Victoria's scenic Villa Rundle gardens. Enjoy a wide-ranging display of typically Gozitan flower arrangements, indoor and outdoor shrubbery, foliage and flowers.
The Agriculture and Industrial Show
Known locally as Il-Wirja ta' Santa Marija, The Agriculture and Industrial Show has been a regular fixture on the Gozo events calendar since 1855.
The event showcases the best of Gozo's artisan crafts, agricultural products and live animals over two days each year (14-15 August) and is held in Victoria's Villa Rundle public gardens. It's a hugely popular event and commonly attracts over 10,000 people to its 4,000 exhibits and competitions.
The Gozitan folk dancing and Maltese singing (known as 'Ghana') on 14 August are a real treat, as is the awards ceremony, where judges award trophies and cash prizes in 13 competitive categories including food, crafts and animals. The ceremony is held in the presence of His Excellency, The President of Malta on 15 August at 11am.